« March 2006 | HOME PAGE | May 2006 »
April 27, 2006
Chinese. Opera.
My travels continue. I've just arrived in Xining, the capital of Qinghai Province. I'm finding that travelling alone is, well... lonely. For some reason the feeling is especially strong at dinner time. Ah, well. I accepted the assignment and I've got to keep plowing ahead. It's just not the same when you're travelling for work rather than for pleasure. I'm having fun, but there's a certain constant amount of pressure and anxiety knowing that I must visit a large number of places over the next few weeks.
With that in mind, I'm really looking forward to a few weeks from now when I'll be able to pass through Korla, my old Xinjiang stomping ground. It'll be nice to see some familiar faces and places.
Now to the business at hand: I'm posting a video below that I shot last week while visiting the spectacular Hua Shan (Five Petal Mountain) in Shaanxi Province. The mountain was breathtaking, even with the hordes of Chinese tourists... now I know where the inspiration for traditional Chinese painting comes from. While up at the top enjoying the scenery, I heard a powerful voice from above echoing betwixt the mountain's granite peaks. I caught up with the offending fellow, and you can see the result below.
P.S. Can someone let me know if the video is embedded and playing properly? (Google Video is blocked in China. Grrr.) Extra points for any opera buffs out there who can identify the tune. I'm thinking something Italian? (Yes, I am in fact an expert linguist.)

posted April 27, 2006 at 05:06 PM unofficial Xinjiang time | Comments (43)
April 20, 2006
The Polar Route to Jim McGreevey
Greetings from fabulous Xi'an!
Now that I'm travelling pretty much non-stop, I don't think I'll be able to update this blog as often as I'd like. I'll try, but it's tough enough finding computers with working USB ports (for uploading photos) let alone those with Photoshop installed.
So, here's some info: leaving from Newark, our projected flight path showed us taking the same route I travelled a year ago...north by northwest and passing just north of the Bering Strait. After about an hour or so of flying, however, it was plain to see that we were actually travelling north by northeast. The new flight path took us over Greenland, the North Pole, and the geographic heartland of Russia... you can see the route in the picture above. I'm not complaining, but I wonder why the change?
Another story: waiting in line to get on the airplane, I heard a flight attendant having an argument with a woman about her potential upgrade to first class. The point of contention was the woman's attire. She was wearing jeans, and apparentely you're supposed to "dress up" to sit with the rich folks. The woman was asked if she could change her outfit, but I boarded the plane before I could hear the end of the conversation.
As I passed through first class on the way to my seat amongst the hoi polloi, I decided to look and see if anyone was wearing jeans. Looking around, I saw that there was in fact somebody wearing jeans... and that somebody was disgraced former New Jersey Governor Jim McGreevey! It turns out that he's travelling with a delegation from Kean University, looking to set up a Chinese extension of the school in the city of Wenzhou. To keep a short story short, upon our arrival in Beijing I wished him well and had our photo snapped together.
Now to the present... I've been in Xi'an for a couple of days, running around to all sorts of hotels and tourist destinations with the hopes of filling the empty pages of my notebook. I journeyed out to the Terracotta Warriors today, which was pretty cool, although I'm always a bit worried when I have to walk miles across a parking lot filled with tour buses. Xi'an is the perfect city for tourists, of which there are many.
In terms of my current assignment, my accreditation letter from Fodor's has worked wonders. All of the sites that I've visited so far have accepted the letter (which I had translated into Chinese in Beijing). Between today's three meals, roundtrip travel out to the Terracotta Warriors, admission to four tourist attractions, and accomodation at a five-star hotel I spent a grand total of... just under $4.00.
I'm running myself ragged, but life is good. Onward!

posted April 20, 2006 at 07:33 PM unofficial Xinjiang time | Comments (44)
April 16, 2006
Leaving On A Jet Plane
Well, this is it... again.
In just a few hours I'll be squeezing myself into a window seat on a Boeing 777-200 at Newark Airport, flying northwest over Canada, crossing the Pacific high above the Bering Strait, turning southwest towards Siberia, and arriving in Beijing after only 13 hours or so. It's a lot of distance to cover in such a short amount of time. Thank God for Continental Airlines and it's fairly new non-stop service out of Newark.
Speaking of covering long distances in a short amount of time... I'll be in the Chinese capital for a day or two, and then it's west to Shaanxi, Ningxia, Gansu, Qinghai, and Xinjiang. After the whole Fodor's assignment is completed in a couple of months, I assume I'll be heading back towards Beijing to find more work. Or, perhaps somewhere else?
In any event, no matter what I end up doing, you'll hear about it first right here.

posted April 16, 2006 at 06:05 PM unofficial Xinjiang time | Comments (25)
April 14, 2006
Sandstorm!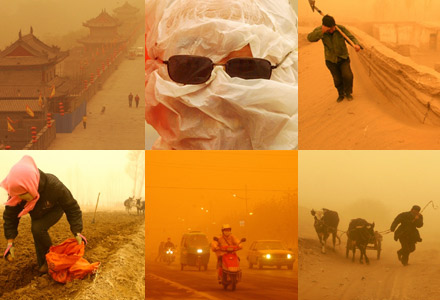 posted April 14, 2006 at 10:24 PM unofficial Xinjiang time | Comments (13)
April 12, 2006
Urumqi to Moscow

From Xinhua:


A direct air route between Urumqi, capital of China's most northwestern region of Xinjiang and Moscow, resumed traffic Monday night, after a two-year long suspension.

You can read the full article below.
China's shortest direct air route to Moscow resumes traffic
11 April 2006
Xinhua News Agency
URUMQI, April 11 (Xinhua) -- A direct air route between Urumqi, capital of China's most northwestern region of Xinjiang and Moscow, resumed traffic Monday night, after a two-year long suspension.
China Southern Airlines' Beoing 737 carrying 101 passengers, mostly Chinese group tourists, took off from the Urumqi International Airport to Russia's capital.
The 5-hour flight from Xinjiang Uygur Autonomous Region is China's shortest air route to Moscow. The other two air routes setting out from Beijing and Shanghai take above 9 hours.
The Urumqi-Moscow air route was first opened in 1994, and was suspended due to the impacts of Asia's financial crisis and the ensuing outbreak of SARS (severe acute respiratory syndrome), which affected China, according to the former Xinjiang Airline, which has been merged by China Southern Airlines.
Su Ming, general manager of China Southern Airlines' Xinjiang subsidiary, said that the company will operate four two-way flights on the route every week, making Urumqi one of the best choices of transferring stations on international air traffic from Europe to east and southeast Asian region.
As "a gift cheering for China's Russia Year," the re-opening of the air route has been considered as an opportunity to boost the development of China's western region, said Su.
Among the passengers on the first flight to Moscow on Monday were group tourists organized by 80 domestic tourist agencies from 20 Chinese provinces and regions.
The activity called Golden Russia Tour will take passengers to famous sight-seeing spots in Russia, such as Red Square and the Cruiser Aurora in St. Petersburg, besides a fan tour in Xinjiang.
In addition to air traffic, Xinjiang is striving to reinforce its road transportation capacity across its 54.7 km long border line with Russia. Under the region's new five-year (2006-2010) development plan, the Kanas Land Checkpoint to the north of Xinjiang will be given green light to become the first land customs to Russia in China's western region.
The planned checkpoint is 290 km away from the nearest city of Altay in Xinjiang.
Trade volume between China and Russia amounted to 29.1 billion U.S. dollars in 2005. However, Xinjiang, which borders Russia, only conducted a little more than 1 percent of the trade. The region is eyeing more shares in the trade market by smoothing out traffic barriers.

posted April 12, 2006 at 03:32 AM unofficial Xinjiang time | Comments (16)
How about "Baaa-shful"?
As I maintain my vigilant watch for all Xinjiang-related news, this stupid story keeps popping up on my radar. A few newspapers in Australia and New Zealand - lands both famed for their love of ruminant mammals - seem to have gotten their hands on the above photo of a four-horned sheep from Xinjiang's Altai region. Awful pun-laced headline mania has ensued, as you can see for yourself from the following headlines:
• Herd the one about the battle of Little Big Horn?
• Hands up if you want some extra ram for your computer
• TWO TOO MANY HORNS EWE MIGHT SAY
• Sheepish critter just too horny
Oh, what a stupid world we live in. And by we, I mean Australians and New Zealanders. Just kidding! Pass the Watties sauce, will ya, mate?

posted April 12, 2006 at 02:39 AM unofficial Xinjiang time | Comments (13)
April 09, 2006
China Rises

A four-part television series co-produced by The New York Times, The CBC, ZDF, France 5, and S4C begins tomorrow night (at least here in the U.S.), detailing the sweeping changes and extraordinary challenges facing modern China. You can read more about China Rises at the official website. Make sure you check out the video preview... it makes China seem more exciting than Snakes on a Plane!

posted April 09, 2006 at 09:47 PM unofficial Xinjiang time | Comments (34)
The Golden Venture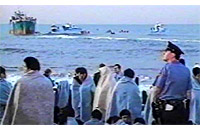 There's been a lot of fuss here in the U.S. this week about possible new legislation on illegal immigration. Of course, when you consider the issue of illegal immigration as a whole, it's easy to forget what we're really talking about: millions of generally hard-working individuals who have suffered through unimaginable hardship just for a chance at the American dream.
There's an excellent article in today's New York Times that examines the plight - 13 years later - of 286 illegal Chinese immigrants who arrived in the United States aboard the freighter Golden Venture (see photo), which ran aground near New York City in June of 1993.
A father of three who was seeking asylum from China's one-child policy was deported back and forcibly sterilized. A teenager seeking adventure became a United States citizen, proud owner of a New Jersey restaurant praised for its translucent dumplings. And a man who swam the last 300 yards through cold, rough surf was suddenly ordered a decade later to report for deportation, with a warning to bring no more than 44 pounds of luggage, though by then he had his own business and two children born in New York....

Ten passengers died that night in a frantic swim for freedom; six of those who made it to shore escaped without a trace. But for the rest, their journeys are still unfolding in widely disparate ways, buffeted by the shifting rules and often arbitrary results of America's immigration wars.

You can read the full article below. Click here to try your luck with the NYT website.
Making It Ashore, but Still Chasing U.S. Dream
The New York Times
By NINA BERNSTEIN
Published: April 9, 2006
They all journeyed to America on the Golden Venture, a rusty freighter crammed with 286 Chinese immigrants when it ran aground off Queens on the night of June 6, 1993.
But a father of three who was seeking asylum from China's one-child policy was deported back and forcibly sterilized. A teenager seeking adventure became a United States citizen, proud owner of a New Jersey restaurant praised for its translucent dumplings. And a man who swam the last 300 yards through cold, rough surf was suddenly ordered a decade later to report for deportation, with a warning to bring no more than 44 pounds of luggage, though by then he had his own business and two children born in New York.
Almost 13 years after the Golden Venture shuddered to a stop and set off a national argument about illegal immigration, the last of its smugglers has just been sent to prison, as the debate rages again. Ten passengers died that night in a frantic swim for freedom; six of those who made it to shore escaped without a trace. But for the rest, their journeys are still unfolding in widely disparate ways, buffeted by the shifting rules and often arbitrary results of America's immigration wars.
Whether they had come to escape persecution or just to seek a better life, nearly all were detained and quickly ordered deported, as the Clinton administration reversed previous practice in an effort to deter illegal immigrants and their smugglers. Yet today, a great majority of the Golden Venture passengers are living and working in the United States, most with no certainty that they can stay. Of the 110 who were actually deported, often after years in detention, at least half have returned illegally, including the father of three who was sterilized.
And as Congress again grapples with how to turn back illegal immigrants and deal with those already here, the passengers' fates show the limits of enforcement and the far-reaching human consequences of any new twist or turn in the immigration system.
Although the details and whereabouts of many of the Golden Venture passengers remain sketchy, interviews with passengers, lawyers and longtime activists in the case, and a documentary filmmaker who spent two years tracking their experiences, paint a picture of bittersweet striving against a backdrop of growing insecurity.
They are scattered from Brooklyn to Austin, Tex., and Greensboro, Ga., and even some without legal status, have worked their way up from delivering Chinese takeout to owning their own businesses and homes. Some have American-born children with names like Steven, Wendy and Jack. Others, still renting bunk beds, faithfully send money back to the families they have not seen for 15 years. Yet increasingly, they live in fear of arrest and deportation.
About 220 Golden Venture passengers are living in the United States, according to those who have followed them most closely. Fifty-three of them were released from prison with great fanfare in 1997, but are left, with few exceptions, in a precarious legal limbo. Another 50 or so disappeared after being released on bail earlier in the 1990's, while about as many have won asylum or citizenship.
Another 60 who have sneaked back into the United States after being deported include Y.C. Dong, the father who was held in a Pennsylvania prison for three years as he appealed an immigration judge's 1993 ruling that he did not qualify for asylum because his fear of persecution under China's one-child policy was only "subjective."
As soon as he was deported to China in 1996, Mr. Dong was detained, beaten, fined and sterilized, he said in an account corroborated by medical tests and court documents. He returned to America in 1999 by plane through Los Angeles with a false passport, having borrowed $50,000 from relatives to pay smugglers — twice what he paid the first time — and reapplied for asylum. So far, however, his petitions have been automatically rejected on the ground that he already had his day in court in 1993.
"I almost feel that my life is out of hope," Mr. Dong, 47, said through a translator in a recent telephone interview from Arkansas, where he works 72 hours a week as a cook at an all-you-can-eat Chinese buffet restaurant. "But I still hope one day I will live freely in this country."
Meanwhile, his second-born daughter, now 21, has opened a new chapter in the Golden Venture odyssey, leaving the Chinese village where she said others looked down on her impoverished family, to seek her father and her fortune in America.
Another chapter in the story was closed only last month, when a Chinatown businesswoman who calls herself Sister Ping was sentenced to 35 years in prison for organizing and financing the voyage.
Lin Yan Ming, 35, who swam the last 300 yards to shore, spent the next three years and eight months in jail — until February 1997, when President Clinton ordered the release of the last 53 passengers still detained.
There were scenes of jubilation as Mr. Ming and others left the prison in York, Pa., where an unlikely coalition of anti-abortion evangelicals, feminists and volunteer lawyers had held daily vigils for their release. But after the passengers dropped from the headlines, it became clear that most were still in danger of deportation because the release had not given them legal status. A few went on to win asylum, but a vast majority, including Mr. Ming, tried but failed.
Mr. Ming went to work for take-out restaurants in a rough section of Brooklyn, braving beatings and robberies, he said, as he saved enough to buy his own business, marry and have two sons.
Then, seven years after his release, he received a deportation letter. It became the catalyst for a private bill repeatedly introduced in Congress by Representative Todd Russell Platts, Republican of Pennsylvania, seeking permanent legal status for 31 men in the York contingent who had not won asylum. The bill has little chance of passing, but has provided some temporary protection for Mr. Ming and the others.
"It's been a roller coaster," said Beverly Church, a paralegal who credits her late Irish grandfather for inspiring her, a staunch Republican, to keep fighting for the 31 men she began visiting at the York prison years ago. She helped Peter Cohn, a documentary filmmaker, contact many of them, and on April 26 they will be reunited in New York at the Museum of Chinese in the Americas before the film's first showing that night at the TriBeCa Film Festival.
All 31 have been vetted at least twice by the Department of Homeland Security, the local police, the F.B.I. and Interpol, Ms. Church pointed out, sharing a book compiled from the official immigration reports on each man, and the handwritten notes and color snapshots they send her.
Many show children the men left behind in China, and cannot visit. Some are teenagers turning into grown-ups. Others are babies or toddlers, like Mr. Ming's sons, United States citizens who were sent back to China through intermediaries to be raised by their grandparents until they could attend public school in the United States.
"Initially I was having so big a hope," Mr. Ming said, referring to proposals for guest-worker programs that could legalize millions of immigrants. "But they have been saying it for so long. It's like very big thunder, and the rain that comes out is a small rain."
In contrast, for a half-dozen minors on the Golden Venture who were placed in foster care on Long Island, America soon became a safe harbor. Most of the four or five taken into the foster home of Patricia Yacullo, in Deer Park, who were 16 or 17, won special juvenile green cards before they turned 21. Three, whom she nicknamed Charlie, Paul and Tim, stayed with her and her husband, Tony, a retired construction worker, until they could establish American lives.
Both Paul and Charlie, who still call Ms. Yacullo "Mom," are now citizens. Paul, originally Cheng Wu Lin, owns the Red Lantern Restaurant and Tea Bar in Cherry Hill, N.J., where a New York Times food critic found the hot and sour soup "ethereal." He is now president of a company with a second Red Lantern in Chicago, and plans for a chain.
Charlie, or Si Lun Cheng, has a wholesale handbag business on West 29th Street in Manhattan. On holidays he takes his two children to visit Ms. Yacullo, 66, who is diabetic and legally blind.
"She treat me like her own kids," said Mr. Cheng, his eyes glistening as he stood among cartons of handbags from China. After working in a garment factory and in a post office, he went into business, and recently bought his first home in Bayside, Queens, where he and his wife sought good schools for their son, 7, and daughter, 5.
"My son speak full English," he said proudly, glancing at his parents, who speak only Chinese, but have helped keep the store open seven days a week since he sponsored them to join him two years ago.
Yet even in this lucky group, some lost out. Ms. Yacullo still laments that the young man she calls Tim turned 21 before his green card came through. Despite her payments to several lawyers, she said, he is stranded without legal status, with no road to citizenship and no way to reunite his family. Still, she added, he owns a restaurant in Georgia, is married and has American children.
"He's done great," she said. "We need more kids like that."
Back in China's Fujian province, being the child of a Golden Venture passenger was a misfortune, recalled H. L. Dong, the daughter who followed her father to the United States.
Other absent fathers soon sent money home, transforming the lives of their families. Tile floors replaced beaten earth; daughters wore pretty clothes and could go to high school. But her family, which had its sewing machine confiscated when the birth-control police came looking for her father, only grew more indebted, she said. Her father left when she was about 5, took almost three years to reach America, and languished in detention another three.
Her journey, by air on a false passport, took only 10 days. But as her mother feared, she was caught crossing the Mexican border. Remembering her father's description of Chinese prison, she was pleasantly surprised. "I was not tortured," she said, looking very young in jeans and a pink top.
Relatives arranged bond, and now she waits tables 10 hours a day at a Chinese restaurant in Maryland with a $5, all-you-can-eat lunch, trying to pay off her $65,000 smuggling debt. Her father has worked in 10 similar restaurants in six different states, and in Arkansas now. He spends his day off alone, watching TV. For both, the only path to legal status is Mr. Dong's asylum petition, now stuck among thousands of immigration appeals overwhelming the federal courts, said their lawyer, Peter Lobel.
But they both return to New York's Chinatown, where survivors of the Golden Venture often recognize each other in the street, and share their experience of America.
"I just have this feeling about how America should be," Ms. Dong said with a laugh. "It should be as good as heaven, otherwise why do so many people want to come here?"

posted April 09, 2006 at 12:01 AM unofficial Xinjiang time | Comments (23)
April 06, 2006
Gruesome Gansu Find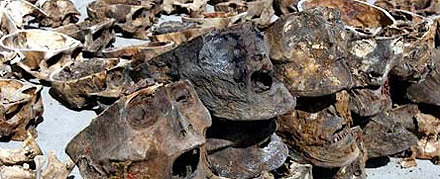 There's a really gruesome story that's been developing in Gansu Province these past few days. A local herdsman was apparently minding his own business in a forest near the Gansu/Qinghai provincial border when he discovered a plastic bag containing more than a hundred human skulls... 121 skulls, to be exact. Many of the skulls had been sawed off at the top (see photo), and tests show that they came from the bodies of both children and adults.
So, what's the deal? Is there a psychotic serial killer on the loose in northwest China? Is this another case of shady post-mortem organ harvesting? Nobody seems to know at the moment, but I'll keep you posted.
UPDATE: Are Tibetan skullcrafters behind the bag of heads? Yes. Actually, no. Or... maybe? I'm still confused. Read more below.
China to conduct DNA tests on 121 skulls found in forest
3 April 2006
The Press Trust of India Limited
Beijing, Apr 3 (PTI) Authorities have ordered DNA testing on 121 skulls found last week in a forest in central China's Gansu Province, to determine whether they belonged to humans, a media report said today.
The skulls were first thought to be monkeys, but Liu Naifa, life science professor at Lanzhou University in Lanzhou, the provincial capital, said they were human.
Plastic teeth were found in a jaw of one of the skulls, the 'Lanzhou Morning Newspaper' reported.
Most of the skulls bore marks of cutting with a saw.
Liu said the skulls, which belonged to young and old and men and women, were sawn not long ago.
A herdsman found the bones in a forest in Tanshanling Town of the Tibet Autonomous County of Tianzhu last week, according to the newspaper.
The forest is on the border between Gansu and Qinghai.
The provincial police have reported the case to the Ministry of Public Security in Beijing.
-----------------------------------------------------
Police in northwest China investigate discovery of 121 human skulls
5 April 2006
Associated Press Newswires
SHANGHAI, China (AP) - Scores of human skulls, many of them with the top sawn off, have been found in a hillside forest in northwestern China, though it is unclear how or when the people died, police said Wednesday.
The 121 skulls found on March 27 by a herdsman in Gansu province showed severe head injuries, and the crowns of many had been sawn off or otherwise damaged, police in Gansu's capital Lanzhou said in a statement.
It said the skulls were confirmed as human, and that the injuries had been inflicted after the people died, although what caused their deaths was still under investigation.
The statement cited forensics expert Chen Shixian as saying that medical research had been ruled out and that the head injuries did not appear to have been the cause of death.
The skulls were both male and female, young and old, the statement said, without elaborating on ages.
A photo published on the Sohu.com Web portal showed rows of skulls with the tops cut off, some of which still had skin and facial hair on them.
The police statement did not give any indication of when the people died, though local media reports said the skulls were not thought to be very old.
A Hong Kong newspaper, the South China Morning Post, reported Wednesday that police were also investigating the discovery of two human arms at a landfill site in Lanzhou.
It cited a reporter for the local newspaper, Lanzhou Morning Post, as saying that the arms were those of a child.
Police said they had no comment on that report.
The report said the landfill handles both household and medical waste.

posted April 06, 2006 at 11:21 AM unofficial Xinjiang time | Comments (28)
April 05, 2006
China-Pakistan Rail Link?
There's been a lot of talk recently about expanding the roads between Pakistan and China's Xinjiang Uyghur Autonomous Region. But today's edition of Indian newspaper The Hindu has a brief story about the possible creation of a rail link between the two countries that would pass through Kashgar. This is the first I've heard of this plan:
Railway link planned
B. Muralidhar Reddy
5 April 2006

Xinjiang Uyger autonomous region of China would soon have a feasibility study to consider establishment of a rail link with Pakistan to expand the avenues of bilateral cooperation in socio-economic sectors. A dispatch from Urumqi by Associated Press of Pakistan (APP) quoted Governor of Xinjiang Uynger, Ismail Tiliwaldi as telling the visiting delegation of Pakistan Muslim League (PML) led by Senator Mushahid Hussain Sayed, "We will soon hold a feasibility study to find out possibilities of operating a rail network between the two brotherly countries through Kashgar." It said the two sides agreed that the western region has rich potential to emerge as hub of Sino-Pak business activities. Pakistan and China have already decided to start a regular bus service between Kashgar and Gilgit on a daily basis from June 1.


posted April 05, 2006 at 01:09 PM unofficial Xinjiang time | Comments (51)
April 02, 2006
Listening to Xinjiang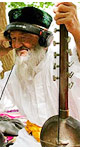 Want to immerse yourself in the dusty sounds of Xinjiang? You could do worse than clicking here. Fausto Caceres of Shirley & Spinoza Radio spent 2003 roaming the farms and back alleys of Xinjiang to record traditional Uyghur musicians, ambient sounds, radio broadcasts, and just about anything else he could hear. The four hour final product is available online in streaming and downloadable formats. I'd suggest listening with headphones, as the sounds were gathered using some sort of really cool binaural recording technique... it's like you're there, man!


posted April 02, 2006 at 11:40 AM unofficial Xinjiang time | Comments (16)
April 01, 2006
Uyghur Pop. Not Uyghur Pop.
Your response to the music videos I posted last week was overwhelmingly positive. So, in the spirit of keeping you amused and attracting a few more readers to this site, I am presenting here today not one, not two, but three new music videos from my Xinjiang VCD collection.
The first video is another surefire hit from those three Uzbekistani Uyghur girls... they proved quite popular last week if my Google Video stats are correct. This time, the girls are strutting their stuff smack in the middle of Urumqi's Grand Bazaar and wearing more traditional Uyghur garb. (Thanks to Kelvin Yew, who's detective work identified the group's name: Xahrizada.)
This is Uyghur pop:
This is NOT Uyghur pop:
The next video features music by Uyghurs, but you can't really call it Uyghur music. How could a real Uyghur write this crap? I mean, they're wearing Uyghur clothing and doing Uyghur dances and all... but they're singing in Chinese, the music is awful and the whole thing looks a lot like propaganda. If your Chinese is good enough to understand what they're singing about in this video, please let me know.

The final video isn't Uyghur music at all. In fact, it's not really even Xinjiang music. Now that you mention it, it's not even a music video... welcome to the strange world of Chinese karaoke! The following KTV clip is set to Daolang's song, "Respectable Chairman Mao." Oddly, it juxtaposes images of Mao founding the People's Republic with stock footage of smiling, dancing Uyghurs. What the #%@$&!? I think this is pushing the whole Daolang - Xinjiang connection a bit too far...


posted April 01, 2006 at 04:34 AM unofficial Xinjiang time | Comments (112)